Your Southwest Michigan Kitchen Remodeling Source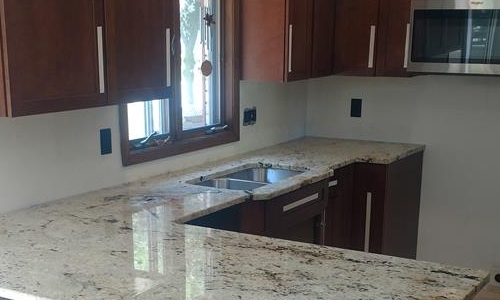 The start of the new year is the perfect chance to renew your home with a brand new kitchen remodeling project with quality products from Southwest Michigan Granite. Your kitchen is the heart of your home where people gather together to visit and prepare meals. You can breathe new life into this room with a full makeover including new sinks, cabinets, and countertops for a fresh new look that will last for years and years. If you have gotten tired of looking at the same old décor, read further for information about how Southwest Michigan Granite can help bring your vision of a new kitchen to life.
Quality Kitchen Cabinets
While also offering storage, your kitchen cabinets also act as an aesthetic component in your overall kitchen décor. Whether you are looking for a style or color that complements your color scheme or as a contrast for added pop, Southwest Michigan Granite has a great selection of cabinets that can be fully-assembled and ready to install in just a few short weeks. If you are looking to upgrade the cabinets in your kitchen or bathroom, please call the professionals at Southwest Michigan Granite and let us know what you have in mind.
Durable Quartz or Granite Kitchen Countertops
When it comes to countertops, you can opt for cheaper models made of wood or Formica, but these products don't have the look and convenience of Quartz or Granite. Besides the unmatched durability, quartz and granite also give you nearly unlimited options in terms of style, shape, or color, allowing you to find the perfect aesthetic for your new kitchen. Once installed, you will benefit from time saved due to easy maintenance and simple cleanup. Be sure to speak with one of our experienced professionals to discuss the quartz and granite countertop options we have available to you.
Quartz and Granite Sinks to Complete Your Kitchen
With a quartz or granite sink added to your kitchen, you get the benefit of the same durability you get from your countertops at a price that will fit your project budget. These sinks are available in numerous styles and colors, so you can find the perfect aesthetic look for your kitchen. Made from non-porous material, you can also rest assured that with simple cleanup, you won't have to worry about the growth of mold or bacteria in your sink. Southwest Michigan Granite is your headquarters for all of your kitchen remodeling needs. Contact us and let us know about the project you have in mind, today!