Why You Should Consider a Quartz or Granite Countertop for Your Next Remodeling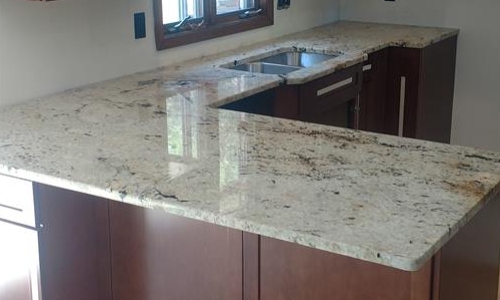 When it comes to home improvement, there's no better way to improve your kitchen than with a granite or quartz countertop. Not only will both add value to your home, but both have other benefits that come with them. If you're considering a new countertop, Southwest Michigan Granite can help you choose the best material for your kitchen.
Styles That Will Fit Your Kitchens Aesthetics
Our granite slabs are available in a wide range of colors and textures, Available in a wider range of colors and textures than granite, our quartz kitchen countertops offer even more options in uniform white granite countertops and white quartz countertops that can match any kitchen's aesthetic. A new granite or quartz countertop will add color and style to your kitchen, but that's not their only feature that makes these materials an excellent choice for your next countertop.
Durability Over Other Countertop Materials
Unlike laminate countertops which scratch and stain easily, our granite kitchen countertops are durable and daily wear and tear, making them an excellent choice for busy kitchens. our quartz countertops are also incredibly durable. Our quartz countertops are similarly durable to granite. More chip and crack resistant than our granite countertops, quartz makes an ideal choice of material for countertops in kitchens that see a lot of traffic. Durable and rugged, both our quartz and granite countertops can provide decades of use while retaining its surface.
Health Benefits From Both Granite and Quartz
There are also health benefits that come with choosing granite or quartz for your countertop's material. Our granite countertops are sealed to help provide sanitary surfaces that prevent the spread of bacteria. Being resistant to daily wear and tear means that there will be no scratches or chips to collect any moisture or food preventing the environment that bacteria and mold need to thrive in from forming in your kitchen. Our Quartz countertops are nonporous and resists staining, not only does this help to make them just as sanitary as granite, but it also means that they require even less maintenance. Both our granite and quartz countertops are easily cleaned by wiping them down with just warm water, mild soap, and nothing else.  With a countertop in either granite or quartz, your kitchen will benefit from a clean surface that's perfect for food preparation.
Whether you choose between quartz or Granite as the material for your next countertop, your kitchen will benefit from the appearance, durability, and clean surfaces.  To learn more about the benefits of choosing granite and quartz, or for more information about the selection of granite and quartz slabs that Southwest Michigan Granite offers, contact us today!