Why We are the Premier Source for Custom Quartz Countertops in Kalamazoo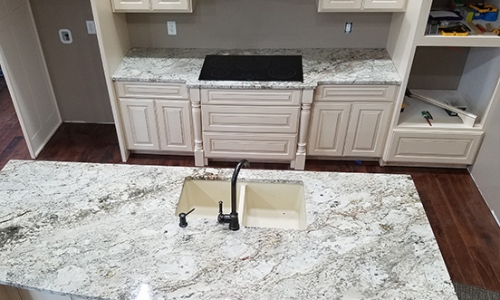 If you are in the market for new custom quartz countertops in Kalamazoo, Southwest Michigan Granite is the best source available. We know that it can be intimidating to search the internet for quality products for kitchen countertops, whether you need them for a new build or you are looking to remodel your kitchen. Look no further! Southwest Michigan Granite has a massive showroom where you can find both quartz and granite in a wide range of colors, patterns, or grains that will complement any décor and fit within your budget. We can provide you with custom countertops that will fit perfectly and complete the look you want for your kitchen. Let's look a little more in-depth as to why we are your top source for quartz countertops in Kalamazoo.
Nearly Limitless Assortment
Are you tired of looking at the same, stale 80s or 90s décor in your kitchen? If you are looking to breathe new life into your kitchen, Southwest Michigan Granite has what you are looking for. Whether you are looking for something similar to what you already have in your kitchen, or you are looking to completely overhaul your kitchen's look, we have a fantastic selection of colors and styles available in our showroom. Feel free to visit us and take a look at what we have to offer.
Experienced Professionals
The process of shopping for new countertop surfaces can be a bit of a daunting task, especially if you are not sure what you need in terms of size, color, or style. Our experienced professionals take a thorough approach to the process, working with you closely to get a good understanding of what you need, so we can find it for you.
Our Stellar Reputation
We can tell you that we are the premier source for quartz countertops in Kalamazoo, but don't take our word for it. We have worked hard over the years to build a strong base of completely satisfied customers, proven through our 4.7 rating on Google. We look forward to adding your name to that extensive customer base, so call us and let us know how we can help you today.
The experienced professionals at Southwest Michigan Granite take great pride in offering home and business owners in Kalamazoo with the best selection in custom granite and quartz countertops. We can handle projects of any size or scope, so put your remodeling project in our capable hands and see the quality for yourself!