When You're Looking for the Highest Quality Quartz Countertops for Sale, Trust SWMI Granite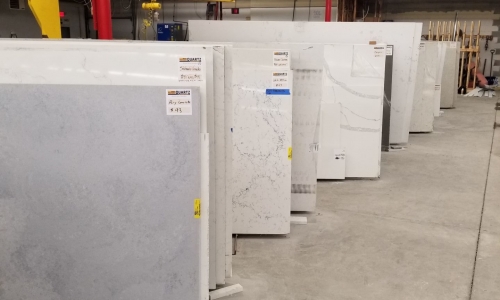 At Southwest Michigan Granite, we aim to offer the highest quality quartz countertops for sale in Kalamazoo, Battle Creek, Grand Rapids, and beyond. If you've been scouring the area, searching high and low for slabs that meet your expectations, you can be confident that our team will work with you to find exactly what you need. With access to a massive selection of quartz and granite slabs, we store everything in our 12,000 square foot showroom. Stocked with over 300 slabs from seven different manufacturers, our showroom is the only place in town to see, feel, touch, and test such an expansive assortment.
Even better, our team has an unparalleled amount of knowledge when it comes to quartz and granite. Whether you're looking to update your kitchen, renovate your bathroom, or add a touch of class to your retail establishment, we'll help you identify the best products for your application.
Additionally, we know how intimidating it can be to shop for quartz countertops. They're an investment. They're something you buy once and live with. You want them to be perfect. Well, our team specializes in perfect! With a huge range of quartz countertops for sale, we'll learn what you're trying to accomplish, walk you through what we've got, and make recommendations based on your stated needs.
At Southwest Michigan Granite, we're continually striving to improve our knowledge, service, and products. We understand how difficult it can be to find perfect bathroom and kitchen countertops. Aiming to make the process easier, we've trained all of our personnel to listen – really listen – to our customers and to identify products that address their needs, concerns, and expectations. If you've been considering an upgrade to your home or business, we encourage you to reach out to us today!