We're Kalamazoo's Top Source for Custom Quartz and Granite Countertops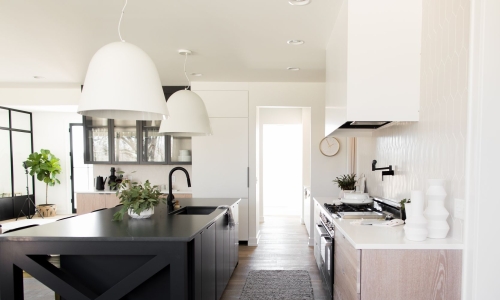 For more than two decades, Southwest Michigan Granite has been Kalamazoo's premium source for custom quartz and granite countertops. With a large selection of slabs in a number of styles, sizes, and colors, we can help you find the right piece to customize into the perfect countertop to breath new life into your kitchen. Whether you are building a home from scratch, remodeling your kitchen, or simply upgrading your current countertops, we will work closely with you to get a full understanding of the project and provide you with the product you need to meet and exceed your expectations. We have a large showroom that allows you to inspect any and all of the materials before you make a decision about which one is right for your project. In today's post, we will discuss the benefits of trusting Southwest Michigan Granite for your custom kitchen countertop needs.
Bring Your Kitchen to Life with Custom Granite Countertops
If your kitchen countertop is twenty years old or older, then it's probably time for an upgrade. Older countertops made from less durable products can have nicks and cuts in them where bacteria can hide, and if the countertops are made of wood, they can absorb moisture, which can cause more bacteria and mold to grow. With a customer granite countertop or quartz countertop, you get a non-porous surface that is resistant to nicks and cuts, making it a cleaner, safer surface for food preparation. All you have to do is keep the surface clean with warm soap and water, and it will provide you with a clean surface for decades.
Add Style, Value, and Substance with Your Custom Kitchen Countertops
Granite or Quartz Countertops are a great investment in your home. They are desirable in the kitchen, due to their durability and low maintenance, adding value to your home and making it more attractive to prospective buyers. You can also add to the aesthetic appeal of your kitchen by selecting a style or color that complements your existing décor and appliances. While the initial investment is significant, the longevity you get from quartz or granite in comparison with wood or laminate makes it a great long term investment that will more than likely last for as long as you live in your home. If you are in the market for new custom countertops, stop into Southwest Michigan Granite and take a look at the selection of slabs we have in our showroom. We look forward to helping you with your project, so stop by today!