We Have What You Need for Your Kitchen Remodeling Project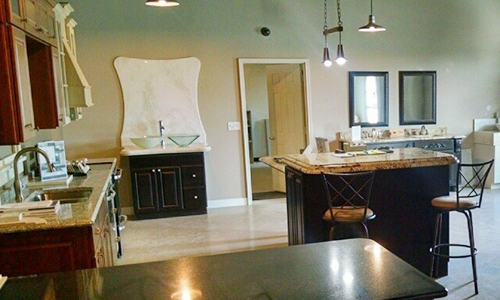 The kitchen is the heart of your home and one of the showcase features that prospective buyers will look at when and if you put your house on the market. If you are interested in remodeling your outdated kitchen, Southwest Michigan Granite has everything you need to add durable functionality and style to your home. From high quality quartz and granite countertops that last for years to cabinetry and sinks, we can help you create a great looking kitchen that you and your family will enjoy for many years to come. In today's post, we will look at the products and services we can provide to breathe new life into your kitchen.
Custom Quartz Countertops for Superior Durability
Quartz or Granite Countertops are a great investment for your kitchen. We have a great inventory of slabs in a number of styles and colors, so you can get the aesthetic look you want custom cut to your kitchen's exact specifications. Not only are these hard surfaces resistant to stains, scratches, and chips, but they are non-porous, so they will not foster mold and bacteria. This means you can keep this low maintenance surface clean with warm soap and water, protecting your family from a potential health risk in the process.
Get the Same Durability with a New Kitchen Sink
Once you have found the right countertops for your kitchen, the professionals at Southwest Michigan Granite can also help you find a durable quartz or granite sink that will complement the overall look of your kitchen. Like the countertops, these sinks are also non-porous, so with simple maintenance, they can be kept clean without the risk of mold or bacteria growing. We have numerous options available, allowing you to find the perfect sink to fit your décor and budget.
Finish Your Kitchen Décor with New Cabinetry
The final piece to your remodeling puzzle, new kitchen cabinets can complete the aesthetic look you want for your new kitchen. We have several styles and colors available that can be fully assembled and delivered right to your home in around two to four weeks. The best part is that these cabinets can be customized to fit perfectly within your kitchen's specifications.
Southwest Michigan Granite is Kalamazoo's premier source for custom granite countertops and everything else you need to turn your old, stale kitchen into a beautiful masterpiece that your family and friends will enjoy for years. Contact us and let us know what you have in mind for your kitchen project, today!