We Have the Kitchen Countertops You Need for Your Remodeling Project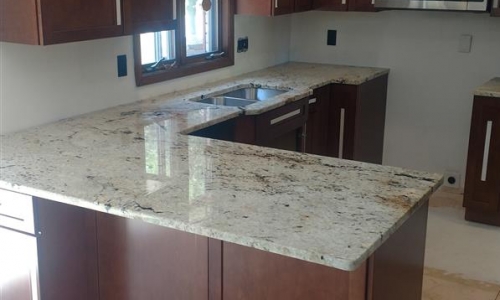 Southwest Michigan Granite can provide you with the best kitchen countertops for your kitchen remodeling project. Whether you have just purchased a new home, or you have lived in the same place for decades, we know that sooner or later, you are going to want to upgrade your kitchen. One of the most important decisions you will make during the remodeling or renovation process is which type of kitchen countertops you want to install. While you may be tempted to use a cheaper product, these do not have the durability and longevity that quartz or granite countertops can provide. With these options, you will have reliable countertops that are easy to maintain and will last much longer than wood or Formica alternatives. Let's take a look at the advantages of installing granite or quartz countertops for your kitchen remodeling project.
Granite Countertops
Granite countertops are a great option for your kitchen, providing a beautiful, natural look that will last a lifetime. Granite is available in a wide selection of colors and textures, giving you the flexibility to find the right kitchen countertops to complement nearly any décor. The countertops, which can be customized to your kitchen's exact specifications, have the rugged durability to handle all the daily wear and tear of even the busiest families. These countertops are also easy to clean and maintain with soap and water, providing you with the clean, sanitary surface you need to keep your family health and safe.
Quartz Countertops
We offer high-quality custom quartz countertops in a wide array of colors and textures from some of the best suppliers in the industry. Quartz is impervious to heat and cold, and it is as strong as other natural stone products providing a surface that is more resistance to the type of chipping or cracking that you get from other types of surfaces. Also, because quartz is non-porous, it is stain-resistant and will prevent mold and bacterial growth, giving you a kitchen workspace that will not potentially jeopardize your family's health. Quartz is also easy to maintain and clean with just soap and warm water.
Complete your kitchen remodeling projects with custom granite or quartz countertops from Southwest Michigan Granite. Our experienced professionals will work with you to find the right option that fits your needs, your décor, and your budget. Call us today for more information about our fully-customizable quartz and granite countertop options.