Want to Add Style and Value to Your Kitchen? Consider a Custom Granite Countertop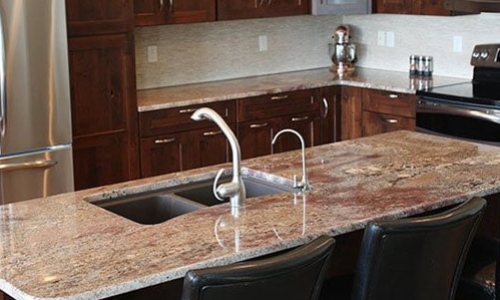 Your kitchen serves an important role in your home, and if you are looking to make a stylish addition that adds value, and breathes new life into your cooking space, why not consider a custom granite countertop? Capable of creating high quality granite and quartz countertops, southwest Michigan granite can provide your home with a stylish and durable granite countertop that fits your kitchen perfectly. If you are planning a remodeling project or are just looking for a way to improve your kitchen's food preparation space, here's why you should consider a custom countertop from Southwest Michigan granite.
A Long-Lasting Addition With Health Benefits
When you finish your kitchen with a custom granite countertop from southwest Michigan granite, you are making a long lasting addition that comes with a number of health benefits. Scratch and chip resistant, granite countertops provide your food preparation space that won't harbor bacteria. Sealed to create a non-porous surface that can easily be cleaned with just warm water and soap, the granite countertops from southwest Michigan granite are great for ensuring that your food is always handled on a clean, sanitary surface.
Make an Addition That Brings Style and Value to Your Kitchen
With granite slabs that offer a nearly unlimited selection of colors and textures available at southwest Michigan granite's showroom, you'll be able to find the granite countertop with the pattern that adds to your kitchen's aesthetics. Durable and long lasting, the granite countertops from southwest Michigan will always retain their look. Requiring only a yearly resealing to maintain their surface, the custom granite countertops from southwest Michigan granite will always look its best, even years after installation. Because a granite countertop will retain its appearance and function for as long as you live in your house, and well after, having a custom granite countertop doesn't just make for a stylish addition, it can also help raise the value of your home for when you are looking to sell your property later on.
When you are looking to remodel your kitchen, choosing a granite countertop can help provide your food preparation space with a durable, stylish, and valuable addition that lasts. Get started on finding the right granite slab for your custom countertop with a quote or contact us today to learn more about the benefits a granite countertop can bring to your kitchen.