Upgrade Your Kitchen With a Custom Granite or Custom Quartz Countertop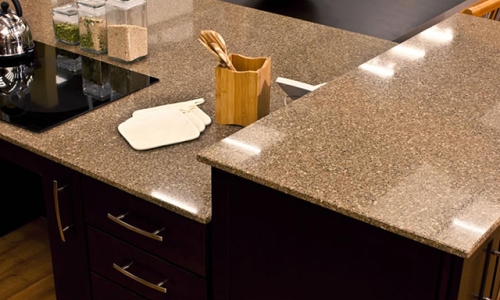 If you are redoing your kitchen, it's important not to overlook the importance of your countertop. While a laminate countertop may provide a cheap solution to finding a replacement, there are many benefits that granite and quartz countertops have that make them an ideal choice. Offering one of the largest selections of quartz and granite slabs in Michigan, Southwest Michigan Granite is ready to help you find the countertop that matches your kitchen's aesthetics. Offering High quality quartz and granite countertops that add style and value to your kitchen, here's why you should choose a granite or quartz countertop from Southwest Michigan Granite.
Countertops With Patterns and Colors That Enhance the Look of Your Kitchen
Carrying the largest selection of granite and quartz slabs in the region, choosing a custom countertop from Southwest Michigan Granite means that you'll be able to find a slab with a pattern that matches your kitchen's aesthetics. With our granite and quartz slabs offering a nearly limitless combination of textures and colors, you'll be able to find the slab that meets your tastes. Not only will a custom countertop from Southwest Michigan Granite add style to your kitchen, but it will also add to your home's resale value. Long lasting and durable, your countertop will last years, preserving its pristine appearance with only minimal maintenance.
Services That Keep Your Countertop in Pristine Condition
When you get a custom countertop from Southwest Michigan Granite, we guarantee that you'll have a countertop that fits your kitchen perfectly. Our team has years of experienced in creating custom made countertops and can provide top notch services for our granite and quartz countertops. Able to add dishwasher areas, facet holes, cooktop cutouts, and other modifications for your countertop, your custom granite countertop needs a modification to fit your kitchen better, the experts at Southwest Michigan Granite can get it done. Offering repair services for chips and seams, as well as cleaning and sealing services, we can help you get the most out of your custom countertop.
With services that can help you modify and maintain your countertop, as well as the wealth of colors and patterns the selection of slabs at our showroom offers, the custom granite countertops and custom quartz countertops from Southwest Michigan Granite make for a stylish and long-lasting addition to any kitchen. Visit our showroom in Kalamazoo to find the perfect slab for your custom countertop or contact us today to learn more about the granite and quartz countertops offered by southwest Michigan granite.