The Best Selection of Kitchen Countertops in Southwest Michigan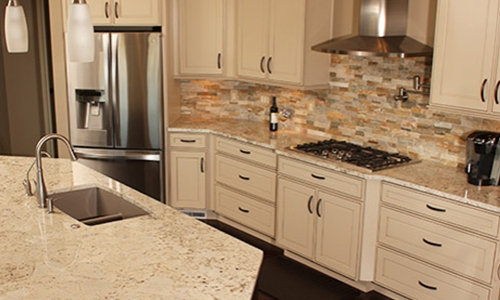 When you are in the market for stylish, durable granite or quartz countertops for your kitchen, Southwest Michigan Granite has the best selection in the area. Whether you are looking to upgrade from your current countertops, or you are building a new home from the ground up, you are sure to find the perfect countertop for your kitchen décor. We have countertops available in a number of different colors and styles, giving you nearly unlimited selection to find the perfect countertop to complement the rest of your kitchen. Read further for more information about how we can provide you with all of the products you need for a successful kitchen remodeling project.
Unmatched Durability for Great Value
There are several options available when you are choosing new countertops for your kitchen, but none of them can match the value you get with granite or quartz countertops. Unlike Formica, laminate, or wooden butcher blocks, quartz and granite will not suffer scratches from normal everyday use. This means that these countertops will last much longer than the alternatives. The strong surface will also look great without the unsightly grooves you see in countertops made from cheaper, weaker materials. While your quartz or granite countertops may cost more than other materials, the durability will pay for itself, as they should last for as long as you own you home.
Save Time with Easy Maintenance
Unlike other countertop materials, granite and quartz are non-porous surfaces. Because of this, you can easily clean your surface with warm soap and water, eliminating the types of bacteria and mold that can grow on porous countertop surfaces. You also don't have to worry about the style and color fading from repeated cleaning the way that other surfaces do. Not only will you add a level of style to your kitchen, but your family will benefit from less health risks without mold or bacteria festering on your countertop surface.
Customized to Your Specifications
Southwest Michigan Granite can cut your quartz or granite countertops to your exact specifications. Regardless of the size or shape of your kitchen, we can make sure your quartz or granite countertop fits perfectly. Just bring your specifications to our professionals and once you have chosen the style you want, we can customize it for an easy, stress-free installation. If you need help finding the right countertop for your kitchen, contact us and let us know about the project you have in mind.