Start Here if You're Considering Installing Custom Quartz Countertops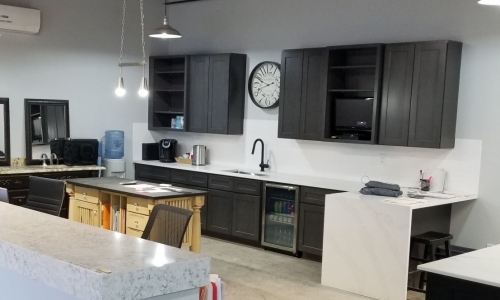 When it comes to upgrading your home, there's no better addition than custom quartz countertops. A great way to add a touch of elegance, they aren't just aesthetic, they're also extremely functional! Stain resistant, long-lasting, and fully customizable, you can be certain this is one upgrade you won't regret. Best of all, when you work with Southwest Michigan Granite, you gain access to Kalamazoo's largest selection of quartz and granite countertops. Inside our 12,000 square foot showroom, you can browse, pick, and choose the material that works best for your kitchen.
But, how can you be certain that you're picking a good slab? Well, the experts at Southwest Michigan Granite are always here to help! Established experts when it comes to kitchen remodels, we can work with you to plan — and execute — your project. Whether you're looking to add a splash of color by redoing your island's surface or you want to revamp your whole kitchen with entirely new custom quartz countertops, we can help.
So, then, why choose quartz? For decades, quartz has been the go-to choice for countertop material because it offers durability, longevity, and customizability. You can always find a slab that will work for your kitchen, when you want lightly flecked or deeply marbled. Once installed, you can count on getting years of use out of your new counters, as they're built to last, as they are nonporous, chip resistant, and easy to clean.
At Southwest Michigan Granite, we strive to provide the most granite and quartz countertop options in Kalamazoo. In addition to this, our team represents the area's most knowledgeable source for information — and assistance — in the installation of these counters. So, if you've been considering a remodel, we encourage you to reach out to us today to learn how we can help.