Spring Into Spring with New Quartz Countertops in Your Kitchen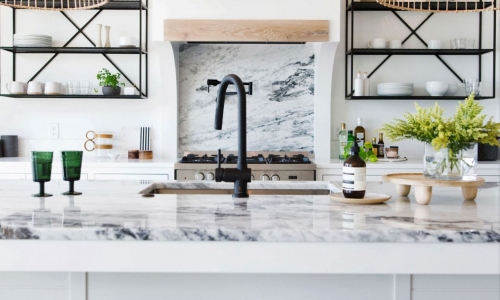 If you have had the same countertops in your kitchen for many years, there's a chance that they could be faded, dull, scratched, and stained through years of use. Your older countertops could also be growing bacteria or mold if they are made from porous materials. Southwest Michigan Granite can help you by providing custom quartz countertops to breathe new life into your kitchen. Available in a large number of patterns and colors, quartz countertops give you the opportunity to increase durability and functionality in your kitchen while also adding a touch of aesthetic style that will perfectly complement your current kitchen décor. These countertops are a great investment that will last for as long as you own your home with simple cleanup and maintenance. Read further for more detailed information about the benefits of switching to quartz countertops in your kitchen.
Quartz is Easy to Clean and Maintain
Because quartz is a non-porous material, you don't have to worry about wine, coffee, grape juice, or other regular stain sources absorbing into the countertops and causing unsightly stains. You can simply wipe it away with soap and water to keep the surface clean. The best part is that the non-porous surface won't hold moisture that can facilitate the growth of mold and bacteria that present a health risk to your family.
Durability That Will Last for Years and Years
When you switch to quartz countertops for your kitchen, the hard surface is resistant to scratches and other wear and tear that will eventually wear down wood or laminate countertops. With little maintenance and easy cleaning, your quartz countertops will last a lifetime.
Add Color and Style to Your Decor
With the vast array of colors and styles, quartz countertops provide you with unlimited versatility for your interior décor. Whether you are building a new home, remodeling your kitchen, or just need to upgrade your old, worn-down countertops, Southwest Michigan Granite can customize the perfect slab to fit your kitchen for durable style that will last and last.
Customers throughout the greater Kalamazoo area have relied on Southwest Michigan Granite for quality granite and quartz countertops for years. Our showroom features hundreds of different display slabs in a wide array of colors and styles, giving you nearly unlimited selection when it comes to a durable countertop for your kitchen. Our experienced staff members will answer any question you may have and help you find the perfect slab that meets your stylistic needs while also fitting within your budget. We will make sure that your countertop project is a complete success from start to finish, so stop into our showroom and let us know how we can help with your project today!