Southwest Michigan Granite Offers a Massive Selection of Kitchen Countertops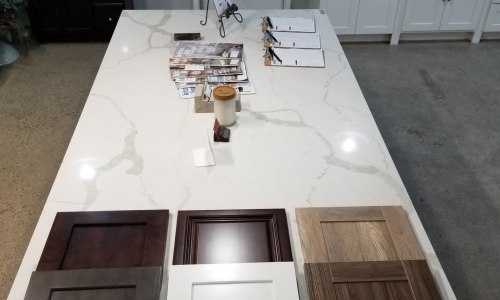 Offering an unparalleled selection of kitchen countertops, Southwest Michigan Granite has built a reputation for offering high-quality, custom granite and quartz slabs for a wide range of projects. Whether you're looking to revamp your bathroom or install a new island in your kitchen, you can rest assured that we can help. We understand that every project has different needs and, because of that, we've stocked our showroom with the widest assortment of slabs in the area. From snowy white to pitch black, we have every shade covered. Best of all, we can work with you to determine your project's needs and custom cut any slab in our inventory to your precise specifications.
As Kalamazoo's largest supplier of custom kitchen countertops, Southwest Michigan Granite is steadfastly committed to providing our customers with options. Whether you're concerned about matching your existing decor, staying within your budget, or durability in the long run, you can count on us to make informed, experienced suggestions and — more importantly — to work closely with you throughout the entire process.
But, we're not just looking to make a sale, our goal is to build a relationship. Once your countertops are installed, we want you to return to us with any questions, concerns, or needs that you have. As the area's most established countertop experts, we can assist with cleaning, sealing, size modifications, cutouts, chip repair, and a whole lot more.
At Southwest Michigan Granite, we strive to ensure that all of our customers are taken care of. We know how difficult it can be to remodel a kitchen or bathroom. We know the stresses involved and, to help with that, we've made certain that our team is equipped to assist with every aspect of your project. So, if you've been looking for a proven, experienced company to help you with your new countertops, we encourage you to visit us today!