Shop Southwest Michigan's Largest Selection of Kitchen Countertops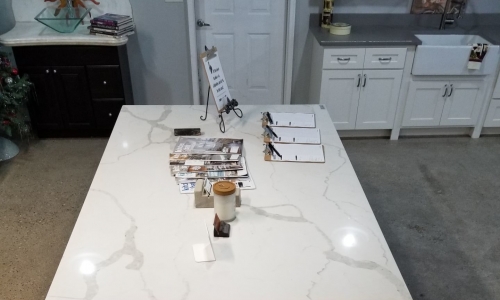 With the area's largest selection of kitchen countertops, Southwest Michigan Granite is the premier supplier of high-quality quartz, granite, and porcelain surfaces. Inside our 12,000 square foot showroom, we display a massive range of countertops, from snowy white granite to dark, veined quartz. Our experienced team is well-versed in the selection process, allowing us to guide our customers and help them make informed purchases that complement – and elevate – their current kitchen décor. We aren't just here to sell you a countertop and then disappear into the night: we're here to work with you, to understand your needs, and to assist you in creating the kitchen of your dreams.
As Southwest Michigan's most trusted supplier of stunning kitchen countertops, we strive to do right by our customers. We want to find you the best option available at a price that stays within your budget. We begin by discussing your expectations and reviewing your drawings. Next, we look at your budget and determine which products are the best fit. Then, we make recommendations and help you find materials and styles that will help you accomplish your goals.
Our commitment to our customers doesn't end when the sale is over, though! No matter what happens down the line, you can be confident that we'll work with you to make it right. Offering a range of services, including cleaning, sealing, chip repair, size modifications, and cutouts, we're here to ensure that your countertop is beautiful the day it's installed and – more importantly – every day thereafter.
At Southwest Michigan Granite, we are continually working to maintain our position as Southwest Michigan's leading supplier of granite and quartz countertops. If you've been considering an upgrade to your kitchen, we encourage you to drop by, visit our showroom, and let us walk you through the process.