Shop Custom Quartz Countertops from Kalamazoo's Most Trusted Source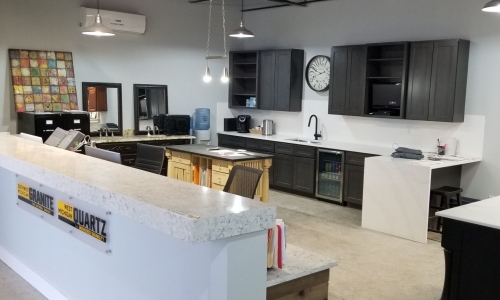 Since our opening, Southwest Michigan Granite has been Kalamazoo's go-to source for top-quality custom quartz countertops. No matter the size, nature, or timeline of your project, you can be confident that we can help. Whether you're adding an island to your kitchen, upscaling your bathroom, or any number of other projects, you can rest assured that our team will work with you to understand your project, identify opportunities, and deliver on your expectations. Best of all, with our expansive showroom, you can inspect your materials before you buy them. No more shopping online and hoping the patterns match when they arrive! When you work with us, you can see and touch the materials we'll use before they're installed.
For years, we've worked with local clients to install the custom granite and custom quartz countertops of their dreams. Available in a huge assortment of colors, these countertops are resistant to chipping and staining, all while offering bacteria-resistant properties. As a kitchen countertop solution, they are the superior choice. That's why, year after year, project after project, our customers return to us for all of their granite and quartz needs.
In addition to a great selection, we also offer the best team in the business. Highly trained and adhering to our in-depth process, they're more than capable of helping you decide on best colors, materials, and sizes. We know how challenging it can be to juggle all of the logistics of a remodel, so our goal is to act as a valuable partner throughout the lifespan of your project.
At Southwest Michigan Granite, we're proud to offer the area's best selection of countertop materials. If you're considering a remodel, revamp, or upscaling of your current surfaces, we encourage you to reach out to us today to learn how we can help.