Read What Our Customers Say About Our Granite Countertops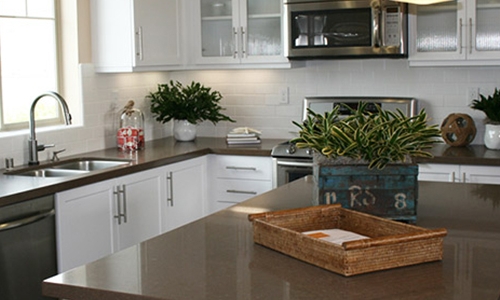 Southwest Michigan Granite is Kalamazoo's top source for quality quartz and granite countertops. Our showroom is full of great looking slabs in a variety of styles and colors, giving you more than enough selection to find the perfect complement to your kitchen décor. Whether you are remodeling your kitchen or building a new home from the ground up, we can provide you with a long-lasting countertop cut to your exact specifications. Take a moment to read the testimonials below and find out what some of our many satisfied customers have to say about their experiences working with Southwest Michigan Granite.
"Had a great experience with SW Granite, Dave was very helpful and kept in contact with me during entire process.  They have a good selection of counter tops.  Install went without a hitch, Shane and Bob were professional and very skilled.  Made it look easy.  I would recommend SWM Granite for any job!" – Ryan M.
"The start of our experience with SWM granite was great, David showed us all of our options and made it clear next steps. Then when it came to install with Shane and Bob we had a first class experience, they were respectful of our house and were very detailed in everything they did. Our seam is SEAMLESS, you can't even see it. Very, very happy with our experience, highly recommend for your remodel projects. They make it easy!" – Lexi M.
"We are remodeling our kitchen and ordered beautiful granite countertops. Company is so easy to work with and we are so happy with the finished product. They did a great job! Would definitely use again." – Colleen M.
"I am so in love with my quartz countertops!! Thanks to Southwest Michigan Granite I now have the kitchen of my dreams! They have so many choices. The whole process was seamless! Great craftsmanship and customer service! Thank you!!" – Lindsey R.
"Just had our granite countertops installed by two gentleman from southwest granite and we couldn't be happier. They were extremely personable, professional, and courteous. The installation went seamlessly and looks beautiful. Our experience from choosing the right granite to the final installation was a breeze. Thanks, Dave for talking me into a more dramatic granite! I absolutely love it! We highly recommend Southwest Granite. Our experience was definitely a 10!  I'll add a photo when kitchen is finished." – Rayna R.
"Our experience with Southwest Michigan Granite went great. Bob and Shane were very careful with bringing the counter into the house and did a great job installing it. Installed the sink and cleaned/sealed the granite. Would definitely recommend." – Gary M.
If you're in the market for a custom quartz or granite countertop, stop in and visit the professionals at Southwest Michigan Granite and see our selection for yourself. Contact us with any questions you may have.