Learn More About the Benefits of Custom Quartz Countertops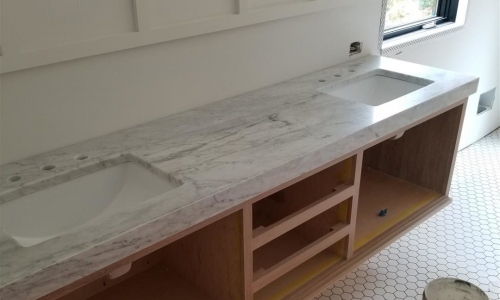 If you've been considering installing custom quartz countertops in your home, you're in the right place! Southwest Michigan Granite is Kalamazoo's go-to source for high-quality quartz, granite, and porcelain surfaces. Inside our 12,000 square foot showroom, we house an unparalleled selection and – best of all – our team is highly knowledgeable about our products. Whether you're looking to select the right color for your bathroom or you want to know what all is involved in replacing your countertops with quartz, our team has the knowledge necessary to walk you through the process. In today's post, we're going to cover a few of the benefits of quartz countertops.
Customizable
If it's options you're looking for, custom quartz countertops offer a wide range of colors. While granite is available in an array of colors, quartz can be matched to nearly any interior design. Whether you're looking for a dark, rich hue to complement an all-steel kitchen or you want a lighter, airier tone to suit your porcelain bathtub, quartz has you covered!
Durable
With its ability to resist chipping and cracking, quartz is one of the most durable countertop materials. In addition to this, quartz is a nonporous material that resist stains. Because of this, it is an ideal material for kitchen countertops, where it can stand up to spills and food stains.
Easy
When you're shopping for new countertops, ease of use is important. Quartz, being nonporous, is extremely easy to clean and prevents the spread of bacteria. If you're looking for a no-hassle, no-headache material, rest assured: quartz is the way to go.
At Southwest Michigan Granite, we're committed to offering our customers the widest selection of granite, quartz, and porcelain surfaces in the area. If you're considering a remodel, we encourage you to browse our site, stop by our showroom, and let us walk you through the selection and installation process!