Increase Your Home's Style and Value with Custom Granite Countertops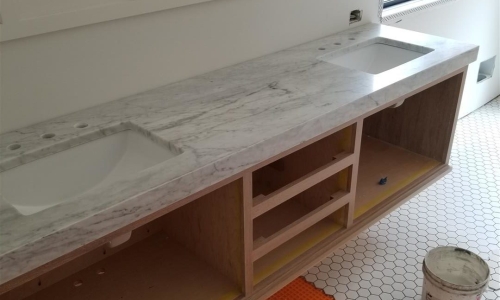 A new high-quality kitchen countertop can breathe new life into your kitchen and provide you with a stable surface for food preparation and presentation for years and years. However, there are other benefits to upgrading your kitchen with custom granite countertops which you may not be aware of. Beyond the aesthetics and functionality of your countertops, they can also make it easier to keep your kitchen germ-free and even add to the overall value of your home. No matter what your reason is for wanting a brand new custom granite countertop, the experienced professionals at Southwest Michigan Granite can make sure to provide you with the best combination of quality and value for your home improvement investment. In today's post, lets look at the benefits of choosing granite or quartz for your next kitchen countertops.
Get a Fresh New Look in Your Kitchen
When you are looking to upgrade the aesthetic style in your kitchen, there are few things that can make a significant difference the way new countertops can. Whether you choose a custom granite countertop or custom quartz countertop for your kitchen remodeling project, you will have a nearly unlimited selection of patterns and colors to choose from, allowing you to find the perfect slab that will match and complement your kitchen décor.
A Home Improvement Investment That Will Last
Countertops are a significant investment for your home, and you want that investment to last as long as possible. With a hard, durable surface like quartz or granite, you get the most out of your custom countertop investment. Because these materials are resistant to scratches, abrasions, and chips, they will last a lot longer than countertops made form weaker materials like Formica or wood, and they may not have to be replaced during the life of your home.
Maintain a Cleaner, Healthier Environment in Your Home
One of the best reasons to get a new custom granite or quartz countertop installed in your home is the one that few people even consider – protecting the health of your family. While other countertop surfaces are porous and can get scratched, allowing moisture, mold, and bacteria to fester, the hard surface of a granite or quartz countertop can be easily cleaned with warm soap and water, allowing you to rid the surface of bacteria and keep it clean with minimal effort.
Southwest Michigan Granite has the best selection of quartz and granite slabs for custom kitchen countertops in the greater Kalamazoo area. Whether you are remodeling your entire kitchen or just replacing your countertops, we will help you find the right style that will give you improved aesthetics while also adding to the overall value of your home. Contact us and let one of our helpful professionals help your find the perfect solution for the kitchen countertop project you have in mind.