Find the Perfect Granite Countertop with the Best Selection in Southwest Michigan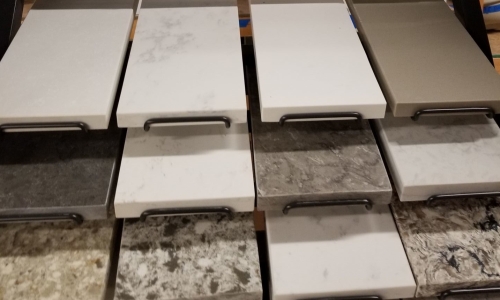 When it comes to choosing a slab for your countertop, you want to make sure that the slab of granite or quartz that you choose has the texture that fits your kitchen's aesthetics. Granite and quartz countertops can bring a variety of benefits to your kitchen, but finding the right cut of granite with the patterns and colors that match your tastes may seem like a daunting task, especially considering the longevity that a durable granite countertop has. As the premier source for quartz and granite countertops in west Michigan, southwest Michigan granite's vast selection of granite and quartz slabs offer the variety you need to find the perfect countertop for your kitchen.
Browse the Selection of Granite and Quartz Slabs at Our Showroom
With twelve thousand feet of showroom space, displaying more than three hundred slabs of premium quartz and granite, southwest Michigan granite offers one of the largest assortments of premium countertop materials. Offering a nearly unlimited selection of colors and textures, a visit to our showroom will help you find the perfect slab to complete your kitchen.
Once you have found the slab you need for your countertop, our team will work with you to turn the slab of your choice into the custom countertop that will perfectly fit your kitchen's layout. With a team well experienced in cutting and creating countertops, you can count on southwest Michigan granite to provide you with the custom granite or quartz countertop that matches your kitchen's aesthetics.
Services That Help You Maintain Your Custom Countertop
If anything is off with your new custom countertop, Southwest Michigan granite also offers a range of services that can help you to restore, maintain, or even modify your countertop's design. Whether you need cleaning for your countertop, the addition of cooktop cutouts, modifications to fit your kitchen space better, resealing, or even chip repairs, when you get a custom countertop from southwest Michigan granite, you can trust in our commitment to providing you with the best countertop possible.
Finding the perfect custom quartz or granite countertop is possible with southwest Michigan granite. Offering one of the largest selections of granite and quartz slabs throughout west Michigan, with the experience and services to create and maintain the perfect custom countertop to complete your kitchen. Browse our selection of slabs in our showroom or contact us today to learn more about the custom granite countertops and quartz countertops Southwest Michigan granite can create today!