Enhance Your Kitchen With a Custom Countertop From Southwest Michigan Granite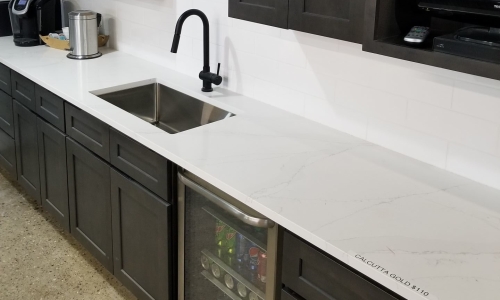 If you're considering getting a granite or quartz countertop it's important to find a countertop that is custom made to fit your kitchen space, that also matches your kitchen's aesthetics. Able to cut countertops of almost any shape and size and carrying an unmatched selection of slabs with a variety of patterns and colors, there's no better source for custom granite and custom quartz countertops than Southwest Michigan Granite. Offering the largest selection of granite and quartz slabs in the region, when you are looking to create the perfect custom countertop for your kitchen, you can count on Southwest Michigan Granite to make it happen.
Custom Countertops Cut to Fit Any Kitchen
Whether you are In need of a surface with extra cut outs for stovetops and sinks, or if you need your slab cut into multiple surfaces for a butcher block or a raised bar countertop, you can count on the team at Southwest Michigan Granite to provide you with a high-quality custom countertop. With over twenty years of combined experience in designing and cutting custom granite countertops, our team has the experience needed to create high quality countertops that can fit any kitchen. Our team will work closely with you to better understand the needs of your kitchen and will create a countertop with the shape and aesthetics to match your space perfectly.
Find Your Next Countertop at Our Showroom in Kalamazoo
When you are searching for the perfect slab for your custom countertop, there is no better place to start than with our showroom in Kalamazoo. With over 12,000 square feet of showroom space, showcasing over 300 different slabs, you will find no shortage of surfaces to choose from. With granite slabs offering a nearly unlimited selection of colors and patterns, and Quartz slabs offering an even greater selection of colors, we guarantee that you'll be able to find the perfect slab to finish your kitchen at our showroom in Kalamazoo.
Offering the largest selection of quartz and granite slabs in our showroom in Kalamazoo, and capable of creating custom countertops for any kitchen, you can count on Southwest Michigan Granite to provide you with the best custom countertop for your next kitchen remodeling project. Come see the slabs available at our showroom or contact us to get started on planning your custom countertop today!