Custom Countertops for Your New Home Construction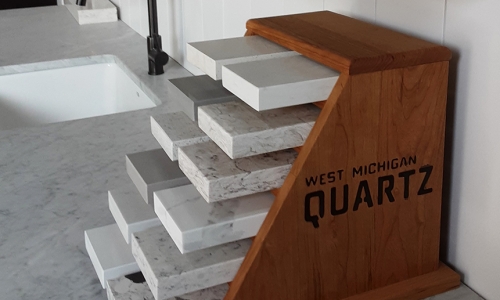 If you plan to build a new home, you need to make sure that every detail is perfect. From the carpeting in the living room to the lighting in the master bedroom and everything else, you have a good idea of what you want for your home. Your kitchen countertops are no different. At Southwest Michigan Granite, we can provide you with quality custom countertops that give you the freedom to create the kind of kitchen you have in your home. Whether you want a quaint, cozy kitchen or a larger kitchen with an island and other features for hosting large meals or parties, our experienced professionals can create the perfect countertops to your specifications, giving you the kitchen you have always wanted. With granite, quartz, and porcelain options available, you have nearly unlimited potential for the type of kitchen you want for your home.
We Have the Experience to Handle Your Project
With many years of experience in the industry, Southwest Michigan Granite are the experts you need to work with for custom countertops in Kalamazoo and the surrounding areas. We work closely with each customer to ensure we get a full understanding of your needs and the specifications of your project. This gives us all the tools we need to develop the proper countertops that meet your needs and expectations. Do not trust your custom countertops to just anyone – let us provide you with the unmatched quality and durability of our countertops.
We Have a Systematic Refined Process
We have worked throughout the years to streamline and perfect our process to make sure that each and every project we complete is done with a strict attention to detail and unmatched standard of quality. We always begin the project with a look at the budget in comparison with the drawings. Once we have determined the square footage, we can determine which materials are perfect to give you the type of countertops you want at a price that will fit within your budget. You will not find a better combination of style, substance, and affordability anywhere for your custom countertops.
The experienced professionals at Southwest Michigan Granite take great pride in offering a superior collection of kitchen countertops in Kalamazoo, with more than 300 slabs in stock. Whether you are upgrading your old, outdated countertops or you want to start things out on the right foot with your new construction project, we will make sure you are completely satisfied with the work that we do. Call us today to start working on your custom countertop project today.