Bring a brand-new look to your kitchen with a Quartz or Granite countertop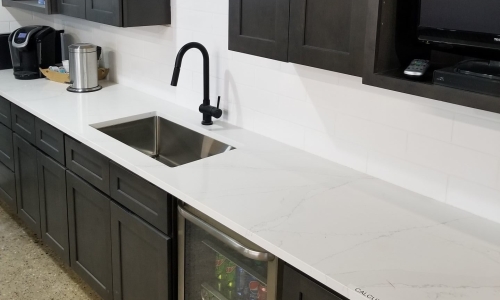 Looking to make your kitchen feel brand new? If you want to remodel your kitchen, why not consider a countertop from Southwest Michigan Granite?  Cut from high quality slabs, our white quartz and white granite countertops can be shaped into any style you choose. Our custom countertops come in a vast selection colors and patterns, and make a durable, and stylish addition to any kitchen. With southwest Michigan Granite, finding that perfect new countertop to complete your kitchen will be easier than ever.
Give your kitchen the look that you want
No two kitchens are alike, so why shouldn't your countertop be unique as well? Our white granite and white quartz kitchen countertops can be cut to fit into any style. If you're looking for more colors, our custom quartz and granite countertops have a nearly unlimited selection of color and texture combinations. So no matter what pattern or color you had in mind, you will be able to find the perfect countertop to breath new life into your kitchen.
A beautiful countertop that will last
Not only will a new kitchen countertop from Southwest Michigan Granite make your kitchen look great, but a granite or quartz countertop will provide your kitchen with one of the most durable surfaces to work on while preparing meals. Unlike wooden or laminate countertops, which can easily be damaged over time, our countertops have a surface that's hard to scratch or cut. Even after years of use, you won't have to worry about damaging a quartz or granite countertop from Southwest Michigan Granite, so your countertop will always look its best.
A Quartz or Granite Countertop Means Your Kitchen will be Cleaner
A clean kitchen is a fast kitchen, and with a granite or quartz kitchen countertop, cleaning is easier than ever. with a smooth, non-porous, moisture resistant surface that is easily maintained with warm, soapy water, our countertops provide a sanitary surface that will help stop the spread of bacteria.
Your countertop is one of the most important parts of your kitchen, and with the best selection of quartz and granite in the region, Southwest Michigan Granite can help you find the perfect slab to make yours! Contact us today and let us know how we can help you find your new granite countertop.