Add to Your Home's Value with a Stylish Granite Countertop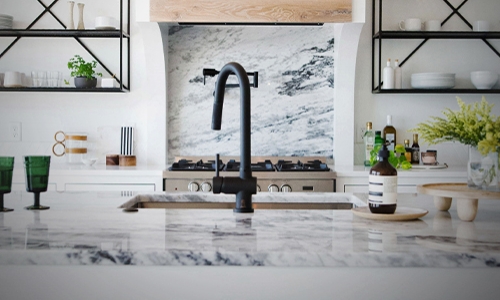 Whether you're building a new home, or remodeling your current one, a custom granite countertop can be more than just a way to style your kitchen. Not only can granite countertops help bring a greater sense of modern style and benefits to any kitchen, but they also pay off in the long run, as a custom granite countertop also helps to add to the overall value of your home.
Offering one of the best selections of granite slabs, and a premier provider of custom granite and quartz kitchen countertops in the area, Southwest Michigan Granite is ready to help you find the right slab of granite to fit the aesthetics of your kitchen.
Make a Renovation that Adds to Your Home's Value
Adding a granite countertop to your kitchen brings with it a variety of benefits. Stylish designs, sanitary, durability, and long-lasting surfaces are just a few of the benefits that a custom granite countertop can bring to your home. In fact, your new granite countertop might stay in your house longer than you do.
If you're planning on selling your home at some point, having a custom granite countertop installed in your kitchen can make your house more attractive to prospective homeowners and realtors than a laminate surface. Having a granite or quartz countertop has been known to increase a home's resale value, and with a countertop from Southwest Michigan Granite, you can be assured knowing that you have not only brought a durable and stylish addition to your home, but also made a sound investment in your own property.
A Massive Selection of Granite and Quartz Slabs
When it comes to selection, Southwest Michigan Granite can't be beat. With a 12,000 square foot showroom containing over 300 slabs of granite and quartz from seven different manufacturers, Southwest Michigan Granite offers a virtually unlimited selection of textures and colors. We're confident that you'll be able to find the perfect slab to become your countertop when you browse the selection of granite and quartz available at our showroom.
If you're looking to finish your kitchen with a granite countertop that adds to the aesthetics and value of your home, Southwest Michigan Granite has one of the largest selections of granite and quartz available at their showroom in Kalamazoo. Contact us today for more information about how we can help you find the perfect countertop for your kitchen.