5 Benefits of Custom Quartz Countertops for Your Home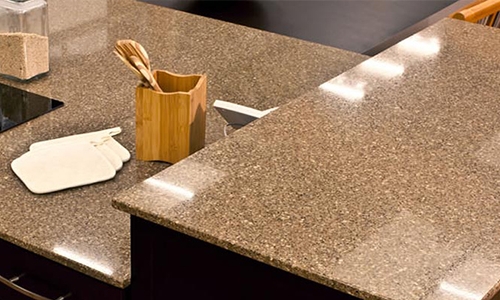 Custom quartz kitchen countertops are one of the best ways in which you can upgrade your home. Available in numerous patterns, colors, and styles, you are sure to find the perfect countertop aesthetic to complement your kitchen décor, whether you are just replacing the old countertops or remodeling your entire kitchen altogether. While the new, fresh aesthetic in your kitchen is great, quartz kitchen countertops also provide you with a number of unique benefits when you have them installed in your home. Read further for more information about how quartz countertops are the right investment to make for your home.
Easy to Clean and Maintain
Unlike marble or other countertop surfaces, quartz countertops are easily maintained by simply washing them with soap and warm water. No expensive, specialty chemicals or scrubbing required. This means you will be able to keep your quartz countertops clean and looking great for years to come with a minimal amount of effort involved.
Modern Look that Will Complement Your Decor
With the nearly endless selections of colors, styles, and patterns available, custom quartz countertops are the perfect options, as you are sure to find the right style for you, whether your kitchen décor is bright and colorful or has softer colors like beige or grey.
Nonporous Surface
Quartz is a nonporous surface that will not absorb water or other liquids the way other surfaces do. This not only means that you can more effectively clean your countertops, but you don't have to worry about mold growth or bacteria build-up. Just wash them with regular soap and water, and your surface is clean and safe for your family to use.
Unbeatable Durability
Countertops are a serious investment, and quartz offers durability that will result in you getting the most out of your investment. It is resistant to the types of chipping, abrasions, and scratching you get with inferior materials, meaning you may never have to replace the surface at all during the time you live in your home.
Customized to Your Specifications
No two kitchens are the same, so cookie-cutter countertops are simply not right for every customer. Quartz countertops can be custom manufactured to your kitchen layout specifications for a perfect fit and look, every time.
The experienced professionals at Southwest Michigan Granite are committed to offering clients in Kalamazoo and the surrounding areas with high quality quartz and marble kitchen countertops. Whether you are just upgrading your current countertops or remodeling the whole kitchen, we will make sure you are completely satisfied with our work. Call us today to get started on your project.